Exploring Below the Surface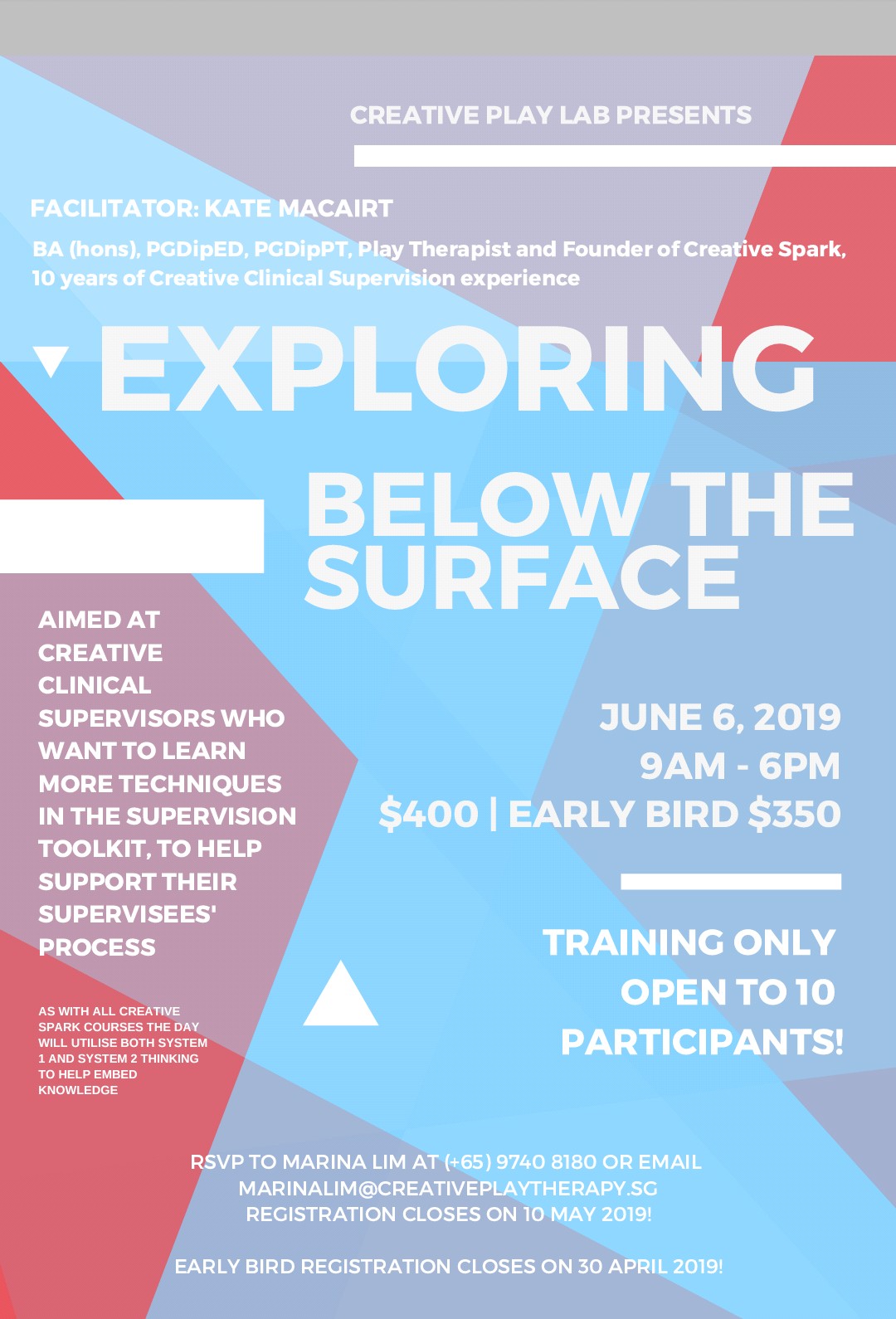 EXPLORING BELOW THE SURFACE: A practical day for supervisors to gain more creative tools for the Supervision toolkit.
Objective:
The day is aimed at creative clinical supervisors who would like to learn more techniques to help support and deepen their supervisees' process and understanding.
Training Outline :
The creative supervision day will focus on diverse theoretical approaches and will include theory and examples from Chesner, Zografou, and Lahad. As with all Creative Spark courses the day will utilise both System 1 and System 2 thinking to help embed knowledge.
Date: 6TH JUNE (Thursday)
Venue: CREATIVE PLAY LAB Pte Ltd
231, Mountbatten Road,
Block A, #03-04,
Singapore 397999
Fee: SGD 400 (Early Bird is SGD 350 before 30 April 2019)
Trainer:
Kate Macairt is the Director of Circle of Life Rediscovery Community Interest Company. COL Natureplay and the Therapeutic Space Course provide an antidote to indoor screen play. Its psycho-education aims to inform the latest research in behaviour, Creative tools and communication skills that help to cope with difficult situations and the Fight Freeze Fight response.
Kate is the founder of Creative Spark. She is a very experienced Creative Play Therapist and Sandplay Therapist with children and young adults. She particularly focus on the emotional needs of the Looked After Child. For the past 12 years, Creative Spark provides Creative Communication training courses to those working with children and young adults. She conducts Experiential Workshops on Attachment Theory, Role Play, Puppets and Team Building. With her 15 years of experience as an Expressive Arts teacher, she works creatively and passionately as a therapist, supervisor and trainer. She is a well received trainer and supervisor, with more than 10 years of experience.
Registration:
Please contact Marina Lim for the registration form.
marinalim@creativeplaytherapy.sg
Only 10 Seats are available. Confirmation of seat upon full payment of fee.
Registration closing on 10 May 2019.
Feel free to contact me for any enquiries.