Activating Archetypes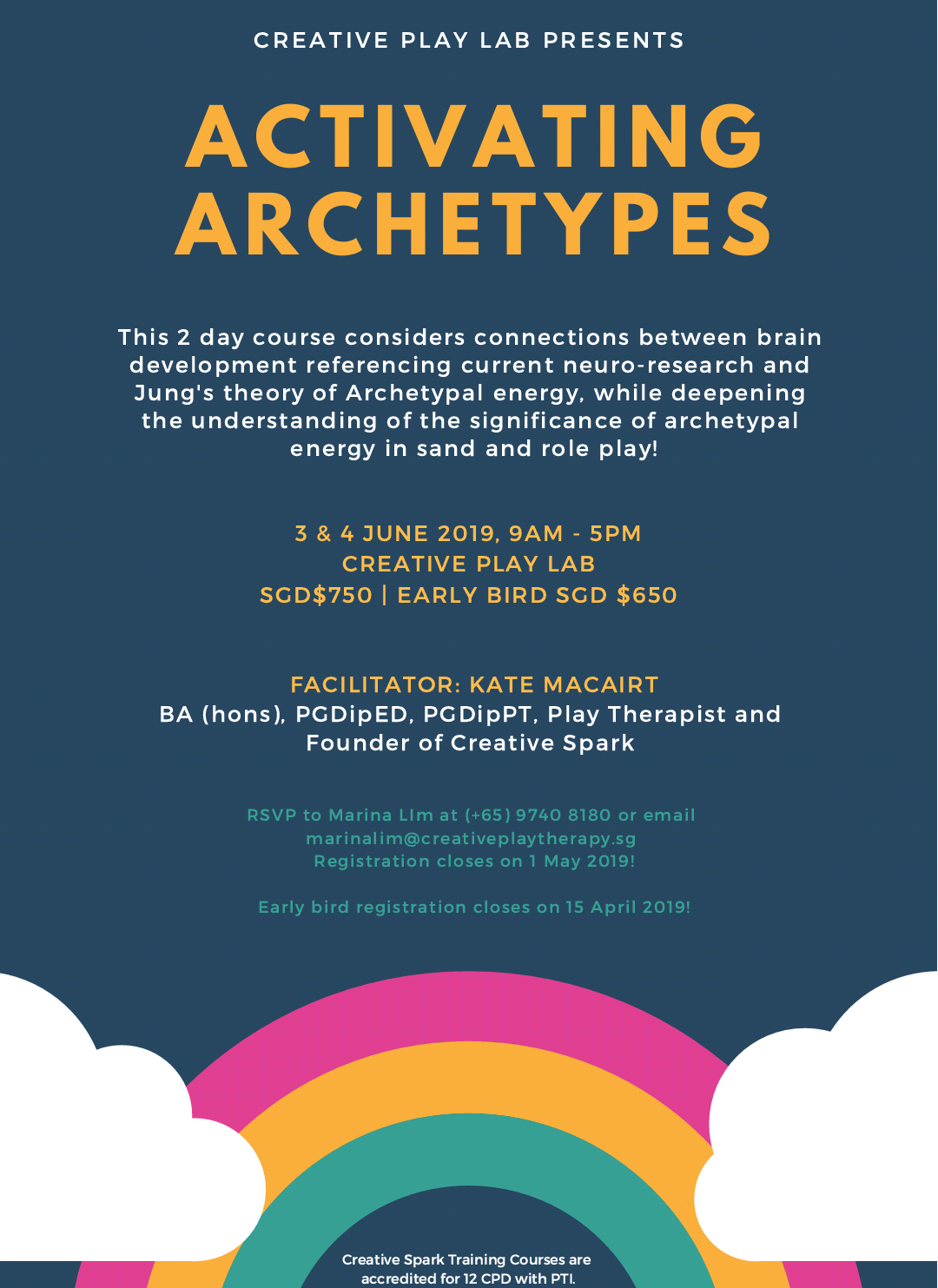 ACTIVATING ARCHETYPES: Agents of change in sand and role play
VENUE: Creative Play Lab Pte Ltd
231, Mountbatten Road,
Block A, #03-04,
Singapore 397999
Date: 3rd & 4th JUNE 2019 (Monday - Tuesday)
- A 2 day training (PTI CPD, Catogory 2, 12 points).
- Participants: Therapists, Counsellors, Psychotherapists, Psychologists etc.
- Carl Jung identified internal energies which he termed archetypes (from the Ancient Greek meaning model, first form, original pattern from which copies are made). These original patterns resonate within all humans and transcend differences in culture and consciousness. Jung's concept describes archetypes as common instincts of imagination and of action. We can see them activating in the metaphorical play children use in play sessions.
- Course Outline: This post qualifying course will provide an in-depth exploration of Carl Jung's concept of Archetypes and archetypal energy. Participants will deepen understanding of what archetypes are, how they relate to modern neuroscience and how can the Therapist can recognise archetypal energies within the client process The two days will incorporate experiential exercises utilising both indoor and outdoor space using sand tray and role play and participants will leave with a deeper understanding of the significance of Archetypes on positive child development and healing of adverse childhood experiences.
Course content includes:
- An exploratory introduction to the seven key archetypes and related Jungian theory.
- Post Jungian theory of Masculine and Feminine energy.
- Consideration of the connection between contemporary theory of Two System model of brain activity and conscious and unconscious mind.
- Diversity of creative activities to explore our connection to archetypal energy working with themes which manifest during sandplay and roleplay
- Experiential exercises to embed understanding and to expand Practitioner skills to recognise and utilise archetypal energies in the therapeutic practice
- Introduction to Creative Archetype Sand Technique(* copyright kmacairt), which provides a simplified sand play technique particularly suitable for adults.
Trainer:
Kate Macairt is the Director of Circle of Life Rediscovery Community Interest Company. COL Natureplay and the Therapeutic Space Course provide an antidote to indoor screen play. Its psycho-education aims to inform the latest research in behaviour, Creative tools and communication skills that help to cope with difficult situations and the Fight Freeze Fight response.
Kate is the founder of Creative Spark. She is a very experienced Creative Play Therapist and Sandplay Therapist with children and young adults. She particularly focus on the emotional needs of the Looked After Child. For the past 12 years, Creative Spark provides Creative Communication training courses to those working with children and young adults. She conducts Experiential Workshops on Attachment Theory, Role Play, Puppets and Team Building. With her 15 years of experience as an Expressive Arts teacher, she works creatively and passionately as a therapist, supervisor and trainer. She is a well received supervisor and trainer.